Bin Laden's Brother-in-law Had Close Ties to Bush
by Tom Flocco *
AmericanFreePress.net * And Scoop.co.nz
August 28, 2002
Saudi Sheikh Khalid bin Mahfouz, an Osama bin Laden benefactor, has laundered money into tax-exempt U.S. entities for years as a foreign financier of terrorism. But a new 9/11 lawsuit is thrusting Mahfouz's latent past business links to George W. Bush back into the spotlight and raising important questions about links between Saudi finance and terrorism in America.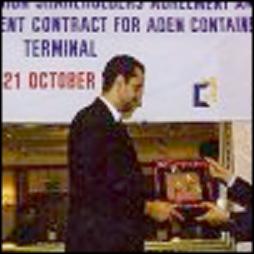 Saudi Sheikh Khalid bin Mahfouz
Bush Financier & Osama Bin Laden's Brother In Law

Saudi Sheikh Khalid bin MahfouzBush Financier & Osama Bin Laden's Brother In LawPresident Bush and the bin Laden family have been connected through dubious business deals since 1977, when Salem, the head of the bin Laden family business, one of the biggest construction companies in the world, invested in Bush's start-up oil company, Arbusto Energy, Inc.



Bin Laden, Bush Serve the Same Master
By Henry Makow Ph.D.
November 25, 2002
The headquarters of Islamic terrorism is London, England, where the Anglo-American Establishment sponsors the radical "Muslim Brotherhood" in order to advance its long-term goal of plutocratic global dictatorship.
These globalists have fabricated a bogus "war on terror" to crush the remaining vestiges of nationalism and democracy in both Muslim countries and the West. Expect more incitements like the current "Miss World " imbroglio to convince both sides the other endangers its way of life.
In a comprehensive online report, the perceptive Hawaii-based researcher Peter Goodgame concludes: "Osama bin Laden is not, nor has he ever been, the leader of the international Islamist movement which is directed by the International Muslim Brotherhood."
Goodgame continues: "Osama bin Laden has been used effectively as a figurehead for the Brotherhood's militant branch to take responsibility for its atrocities, but he is not the mastermind... By the same token, the Muslim Brotherhood is a tool by the British-based Globalists whose main objective is to overthrow the established world order and create a new one-world system of global governance."
Goodgame cites former British Intelligence Officer, Dr. John Coleman, who says the Muslim Brotherhood is a secret freemason order set up by the great names of British Middle East Intelligence, T.E. Lawrence, Bertrand Russell and St. John Philby to "keep the Middle East backward so its natural resource, oil, could continue to be looted."
The Muslim Brotherhood has been used to check nationalist movements led by such figures as Nasser, Bhutto and the Shah of Iran who tried to develop their countries. Without the British, "radical Islam would have remained the illegitimate, repressive minority movement that it has always been, and the Middle East would have remained stable and prosperous," Goodgame says.
The Muslim Brotherhood is now a powerful faction in the global oligarchy. Goodgame cites Robert Drefuss, author of "Hostage to Khomeini" (1980):
"The real Muslim Brothers are ... the secretive bankers and financiers who stand behind the curtain, the members of the old Arab, Turkish, or Persian families whose genealogy places them in the oligarchic elite, with smooth business and intelligence associations to the European black nobility and, especially, to the British oligarchy.
And the Muslim Brotherhood is money. Together, the Brotherhood probably controls several tens of billions of dollars in immediate liquid assets, and controls billions more in ...everything from oil trade and banking to drug-running, illegal arms merchandising, and gold and diamond smuggling. By allying with the Muslim Brotherhood, the Anglo-Americans are not merely buying into a terrorists-for-hire racket; they are partners in a powerful and worldwide financial empire..."
By fabricating a bogus war between Islamic fundamentalism and the West, the globalists are able to attack their real enemy, humanity. Pulling the strings, they will ensure that both Western and Muslim states are degraded and finally completely subjugated to their odious rule.
The globalists have long been using wars to subvert, demoralize and destroy Western civilization. They backed the Nazis and the Soviets in World War Two. They created the Punch and Judy show that was the Cold War. They tied U.S. hands while backing Ho Chi Minh in Vietnam.
Who are they? Also called the illuminati, they represent a recrudescence of the alliance of Rothschild finance and European aristocracy secretly coordinated by a Satanic dogma hidden in freemasonry.
They plan a new feudalism that will impoverish the middle classes, depopulate and enslave the masses, and leave only the rich served by a technocracy. The whole world will resemble a repressive third world country governed by the IMF, UN and World Bank.
The globalists are headquartered in London and centred on the Rothschild-dominated Bank of England, MI-6 and the secretive Round Table society, which spawned the Royal Institute of International Affairs. The American branches include the Council on Foreign Relations, CIA and the Rockefeller foundations which all ensure the American people continue to finance and enforce one-world tyranny. The Bush family has owed its prominence to this cabal ever since grandfather Prescott Bush helped arrange financing for Nazism.
Zionism is supposed to represent the "West" in this sham war with Islam. Americans are being groomed to become like Israelis, victims of daily acts of "Muslim terror." Last week, when another suicide bomber struck in Jerusalem, Benjamin Netanyahu said, "Whether the explosion takes place in Bali, Moscow, New York or Jerusalem we are all united in a war against a common terrorist enemy."
According to Swiss journalist Richard Labeviere ("Dollars for Terror: The United States and Islam" 2000) radical Islam is an essential "complementary enemy" to Zionism, which also seeks regional hegemony. According to the "Yinon Memorandum" (1982) Israel intends to splinter the Arab countries into several small cantons along ethnic lines. None of these will be able to challenge Israel, which, like the US is a disposable implement of the globalist agenda. (207)
The Palestinian terrorist "Hamas" movement is a product of the Muslim Brotherhood. According to Labeviere, it serves the interests of the Israeli right wing, and has received secret financial support from the Israeli "Shin Beth." (203-205). Thus, Palestinian suicide bombers play straight into Ariel Sharon's hand.
Meanwhile, back in the USA, "Muslim terrorist attacks" are an excuse to lay the foundations of a police state. These attacks, which could become nuclear or biological, might serve as a pretext to declare martial law, suspend elections and round up dissidents, i.e. anyone who is not buying the lie.
This may seem incomprehensible to Americans now when the economy is still being propped up. Once the US has done the globalist's dirty work, interest rates could rise and debt ridden Americans could be stripped of their assets, as they were in the Depression.
The Homeland Security Act is designed to control all US law enforcement agencies so that elements in the CIA and Mossad can target Americans with impunity, like they did on Sept. 11. American agencies were designed to remain independent so they could serve as a check on each other.
The Act is also designed to allow George W. to place his henchmen in positions of control. Remember, he is a product of a secret Satanic cult, the "Skull and Bones." This sounds gruesome but the Twentieth Century provided many precedents. The illuminati was behind both Nazi and Communist mass slaughter and terror. Our position is akin to the European Jews who disbelieved warnings of the holocaust.
There is even a provision in the Homeland Security Act against whistle blowers. Why? Another provision allows mandatory vaccinations while giving vaccine manufacturers immunity from prosecution. Why? The "Total Information Awareness" program will "red flag" troublemakers by monitoring all personal communications and financial transactions, even your library records. You didn't attack the WTC. Why are you targeted?
What is the justification for this destruction of freedom, which Bush supposedly protects? In 14 months since Sept.11, 2001, there has been not one Muslim terrorist attack in the US despite the bloody American invasion of Afghanistan. If "Al Queda" were capable of pulling off Sept. 11, don't you think it would have planned an encore? Don't get me wrong: I am grateful to the Mossad and CIA for sparing us. But Americans simply don't deserve freedom if they accept this obvious ruse and its ominous consequences.
In conclusion, mankind is in the clutches of a diabolical multi generational conspiracy. A Satanic, criminal cartel has subverted all social institutions and is slowly crafting a brutal global dictatorship. Our political and cultural leaders are witting and unwitting pawns. They are fabricating a phony war between Islam and the West in order to accomplish the degradation of both.
I realize this vision seems incredibly bleak. The mass media holds us in a powerful illusion of normalcy. However, expecting the worst means you will never be disappointed. If you are wrong, you are relieved. If you are right, you are prepared.
BBC News Online: Events: Newsnight
http://www.xs4all.nl/~stgvisie/VISIE/donahue.html
This transcript is produced from the teletext subtitles that are generated live for Newsnight. It has been checked against the programme as broadcast,
however Newsnight can accept no responsibility for any factual inaccuracies. We will be happy to correct serious errors.
GREG PALAST:
The CIA and Saudi Arabia, the Bushes and the Bin Ladens. Did their connections cause America to turn a blind eye to terrorism?
UNNAMED MAN:
There is a hidden agenda at the very highest levels of our government.
JOE TRENTO, (AUTHOR, "SECRET HISTORY OF THE CIA"):
The sad thing is that thousands of Americans had to die needlessly.
PETER ELSNER:
How can it be that the former President of the US and the current President of the US have business dealings with characters that need to be
investigated?
PALAST:
In the eight weeks since the attacks, over 1,000 suspects and potential witnesses have been detained. Yet, just days after the hijackers took off from
Boston aiming for the Twin Towers, a special charter flight out of the same airport whisked 11 members of Osama Bin Laden's family off to Saudi Arabia.
That did not concern the White House.
A TIMELINE SURROUNDING SEPTEMBER 11TH - IF CIA AND THE GOVERNMENT WEREN'T INVOLVED IN THE SEPTEMBER 11 ATTACKS
WHAT WERE THEY DOING?
by Michael C. Ruppert
[© COPYRIGHT 2001, All Rights Reserved, Michael C. Ruppert and From The Wilderness Publications, www.fromthewilderness.com. May be copied and distributed for non-profit purposes only.]
[Expanded and Revised Sept. 4, 2002 - Evidence of Bush Administration Foreknowledge and complicity is now overwhelming. Since our last revision July 11, 2002, 16
Nov. 2, 2001, 12:00 PST -- On Oct. 31 the French daily Le Figaro dropped a bombshell. While in a Dubai hospital receiving treatment for a chronic kidney infection last July, Osama bin Laden met with a top CIA official -- presumably the chief of station. The meeting, held in bin Laden's private suite, took place at the American hospital in Dubai at a time when he was a wanted fugitive for the bombings of two U.S. embassies and last year's attack on the USS Cole. Bin Laden was eligible for execution according to a 2000 intelligence finding issued by President Bill Clinton before leaving office in January. Yet on July 14, 2001 he was allowed to leave Dubai on a private jet, and there were no Navy fighters waiting to force him down.
In 1985 Oliver North -- the only member of the Reagan-Bush years who doesn't appear to have a hand in the current war -- sent the Navy and commandos after terrorists on the cruise ship Achille Lauro. In his 1991 autobiography "Under Fire," while describing terrorist Abu Abbas North wrote, "I used to wonder: how many dead Americans will it take before we do something?" One could look at the number of Americans Osama bin Laden is alleged to have killed before Sept. 11 and ask the same question.
It gets worse, much worse. A more complete timeline listing crucial events both before and after the Sept. 11 suicide attacks, which have been blamed on bin Laden, establishes CIA foreknowledge of them and strongly suggests that there was criminal complicity on the part of the U.S. government in their execution. It also makes clear that the events that have taken place since Sept. 11 are based upon an agenda that has little to do with the attacks.For full story see http://www.fromthewilderness.com/free/ww3/02_11_02_lucy.html
By Bill Molson
Online Journal Contributing Writer
5-5-2


Operation Northwoods Could the United States government conceive of carrying out attacks against the American people under the pretext that the attacks came from a foreign enemy? We have to look back only 40 years to find that the answer is yes. The plan was called Operation Northwoods and it called for engaging in such unsavory activities as assassination, hijacking airplanes, blowing up ships, orchestrating violent terrorism in U.S. cities, and even blowing up John Glenn's space capsule, while pinning the blame on Fidel Castro. This would whip up necessary public support for a full-scale invasion of Cuba, which the military believed was necessary. These details are revealed in a book entitled Body of Secrets, a book about the National Security Agency, by James Bamford. "We could blow up a U.S. ship in Guantanamo Bay and blame Cuba," wrote the military, and, "casualty lists in U.S. newspapers would cause a helpful wave of national indignation." This was not a "rogue" operation, or loners acting outside the government. These plans were devised by the Joint Chiefs of Staff and were presented to President Kennedy's defense secretary, Robert McNamara, in 1962. The Kennedy administration rejected the plan, but pretext operations would continue to be drawn up as late as 1963. Among these were to create a war between Cuba and another Latin American country so the U.S. could intervene, and paying someone in Castro's government to attack Guantanamo Bay. The author, in an interview with ABC news, said, "The whole point of a democracy is to have leaders responding to the public will, and here is the complete reverse, the military trying to trick the American people into a war that they want but nobody else wants."

Osama bin Laden

"I have already said that I am not involved in the 11 September attacks in the United States. As a Muslim, I try my best to avoid telling a lie. I had no knowledge of these attacks, nor do I consider the killing of innocent women, children and other humans as an appreciable act. Islam strictly forbids causing harm to innocent women, children and other people. Such a practice is forbidden even in the course of a battle.

"It is the United States, which is perpetrating every maltreatment on women, children and common people..."

-- Osama bin Laden in an interview on October 16, 2001

The Zionists Who Orchestrated The 9-11 Attacks

From: geonotes@mcn.net

Zionist Commando Daniel Lewin Orchestrated The 9-11 Terrorist Attacks

His Troops Stole Arab Identites While Mossad Agents In Hollywood, Florida Assassinated Mohammed Atta And Framed Him For The Crime

3/7/2004

Investigative Report -- [Bill: This is part of one of the most intriguing pamphlets on 9-11 I have ever seen published. I have been unable to find any other copies of it available on the Internet. It hasn't gotten circulation because its publisher (author is unknown) was arrested on trumped up charges soon after it hit the press, and that publisher has been held in solitary confinement while these pamphlets have been languishing without a distributor. Here is the first lengthy excerpt . I hope to excerpt more. This starts with the dancing Zionists, which is well known, and then goes deeper than any other investigation I have seen into this topic:]

THE DANCING ISRAELIS

Like most Americans, I was gripped by senses of profound shock, horror, revulsion, sadness and rage as I watched the horror of September 11, 2001, unfolding live on my television screen. Watching the mass murder of thousands of innocent people live on television was the most upsetting experience of my life. .

But not all of the eye-witnesses to the 9-11 slaughter were so saddened. On September 11, five Israeli army veterans were arrested by the FBI after several witnesses saw them "dancing", "high-fiving" and "celebrating" as they took pictures of the World Trade Center disaster from across the river in New Jersey.

When the photos [taken by the dancing Israelis] were developed, they revealed that the dancing Israelis were smiling in the foreground of the New York massacre. According to ABC's 20/20 attempted whitewash of the incident, in addition to their outrageous and highly suspicious behavior, the five also has in their possession the following items: box-cutters, European passports, and $4700 in cash hidden in a sock. Why were these Israeli agents so happy about the horrible massacre unfolding before their very eyes? . Could it be that these happy Israeli army veterans were in some way linked to this monstrous attack? That's what officials close to the investigation told the Bergen Record newspaper of New Jersey. For full story... http://www.fourwinds10.com/news/05-government/C-fraud/01-911/2004/05C1-03-19-04-zionists-who-orchestrated-911.html
Israeli Agents Believed Involved in Abu Ghraib

Diplomatic sources in Washington tell NewsMax's U.N. correspondent Stew Stogel that Israeli nationals are believed to be involved in the Iraq prison controversy.

"Israelis have been to Abu Ghraib and other prisons [in Iraq]," says one source familiar with the U.S. operations.

It was explained that the Israelis involved have been assigned as "civilian contractors" to work with Coalition forces in interrogating Iraqi POWs.

The "contractors" are said to be veterans of Israel's domestic intelligence unit, Shin Bet, as well as the more famous international intelligence agency, the Mossad.

"Who has better experience in dealing with the Arabs than Israel?" one source asked.

It was explained that several of the "interrogation" techniques used by U.S. forces in Iraq have in fact been used by Israel "for years."

The technique of stripping Arab prisoners naked, to embarrass and humiliate them, has been used by Israelis, according to Arab diplomats at the U.N.

It should be noted, however, that torture and mutilation are common techniques used by Arab countries on their prisoners.

Word in NYC diplomatic circles is that some of the "civilians" seen in recent Iraq prison photos are in fact Israeli nationals "advising" U.S. forces.

Neither U.S. nor Iraqi diplomatic officials in NYC or Washington were available for comment. saturday, May 20, 2004. 7:15pm (AEST)


Zionist Jews Attack
Mexican Heritage In LA County
Threaten Litigation Over Spanish Cross On County Seal
By Ernesto Cienfuegos
La Voz de Aztlan
CA's Largest Circulation Spanish Newspaper
5-29-4

(ACN) - Those nefarious Zionist Jews are at it again! The same clique of Talmudic Jews who want to remove "One Nation Under God" from the Pledge of Allegiance now have targeted the Spanish Cross that is part of the "Official Seal of the County of Los Angeles." The Jewess Ramona Riptson, wife of the Ninth Circuit Court of Appeals judge that voted to remove God from the pledge, and who is also Director of the Jewish ACLU of Southern California has just given the County Board of Supervisors an ultimatum to "REMOVE" the cross from its seal or face a massive suit in the Jewish dominated judicial system of California. The ACLU which has its headquarters in Jewish New York is now out of control. Not many people know that its Board of Directors are pretty much entirely Zionist Jewish with a few token gentiles and lackeys here and there to cover up who really controls this vile and Godless organization. The US Supreme Court Justice Ruth Bader Ginsburg, who successfully pushed to legalize sodomy recently, is also a former national head of the Lucerferian ACLU. The Jewish ACLU has led the attack against Christianity in the USA and has been the prime organization behind the sodomite agenda in the country.
US seeks war crimes exemption extension
The United States has circulated a draft Security Council resolution to give US peacekeeping troops another one year exemption from prosecution by the world court at The Hague
Iraqis Lose Right To Sue Troops Over War Crimes
Military Win Immunity Pledge In Deal On UN Vote
BY Kamal Ahmed
Political Editor
The Observer - UK
5-24-4
British and American troops are to be granted immunity from prosecution in Iraq after the crucial 30 June handover, undermining claims that the new Iraqi government will have 'full sovereignty' over the state. Despite widespread ill-feeling about the abuse of prisoners by American forces and allegations of mistreatment by British troops, coalition forces will be protected from any legal action. They will only be subject to the domestic law of their home countries. Military sources have told The Observer that the question of immunity was central to obtaining military agreement on a new United Nations resolution on Iraq to be published by the middle of next month.
US Soldiers Accused
Omenf Raping, Abusing
Iraqi Women
By Luke Harding
The Guardian - UK
5-24-4
The scandal at Abu Ghraib prison was first exposed not by a digital photograph but by a letter. In December 2003, a woman prisoner inside the jail west of Baghdad managed to smuggle out a note. Its contents were so shocking that, at first, Amal Kadham Swadi and the other Iraqi women lawyers who had been trying to gain access to the US jail found them hard to believe. The note claimed that US guards had been raping women detainees, who were, and are, in a small minority at Abu Ghraib. Several of the women were now pregnant, it added. The women had been forced to strip naked in front of men, it said. The note urged the Iraqi resistance to bomb the jail to spare the women further shame. Late last year, Swadi, one of seven female lawyers now representing women detainees in Abu Ghraib, began to piece together a picture of systemic abuse and torture perpetrated by US guards against Iraqi women held in detention without charge. This was not only true of Abu Ghraib, she discovered, but was, as she put it, "happening all across Iraq". In November last year, Swadi visited a woman detainee at a US military base at al-Kharkh, a former police compound in Baghdad. "She was the only woman who would talk about her case. She was crying. She told us she had been raped," Swadi says. "Several American soldiers had raped her. She had tried to fight them off and they had hurt her arm. She showed us the stitches. She told us, 'We have daughters and husbands. For God's sake don't tell anyone about this.'" Astonishingly, the secret inquiry launched by the US military in January, headed by Major General Antonio Taguba, has confirmed that the letter smuggled out of Abu Ghraib by a woman known only as "Noor" was entirely and devastatingly accurate. While most of the focus since the scandal broke three weeks ago has been on the abuse of men, and on their sexual humilation in front of US women soldiers, there is now incontrovertible proof that women detainees - who form a small but unknown proportion of the 40,000 people in US custody since last year's invasion - have also been abused. Nobody appears to know how many. But among the 1,800 digital photographs taken by US guards inside Abu Ghraib there are, according to Taguba's report, images of a US military policeman "having sex" with an Iraqi woman. Taguba discovered that guards have also videotaped and photographed naked female detainees. The Bush administration has refused to release other photographs of Iraqi women forced at gunpoint to bare their breasts (although it has shown them to Congress) - ostensibly to prevent attacks on US soldiers in Iraq, but in reality, one suspects, to prevent further domestic embarrassment. In Iraq, the existence of photographs of women detainees being abused has provoked revulsion and outrage, but little surprise. Some of the women involved may since have disappeared, according to human rights activists. Professor Huda Shaker al-Nuaimi, a political scientist at Baghdad University who is researching the subject for Amnesty International, says she thinks "Noor" is now dead. "We believe she was raped and that she was pregnant by a US guard. After her release from Abu Ghraib, I went to her house. The neighbours said her family had moved away. I believe she has been killed." Honour killings are not unusual in Islamic society, where rape is often equated with shame and where the stigma of being raped by an American soldier would, according to one Islamic cleric, be "unbearable". The prospects for rape victims in Iraq are grave; it is hardly surprising that no women have so far come forward to talk about their experiences in US-run jails where abuse was rife until early January. One of the most depressing aspects of the saga is that, unaccountably, the US military continues to hold five women in solitary confinement at Abu Ghraib, in cells 2.5m (8ft) long by 1.5m (5ft) wide. Last week, the military escorted a small group of journalists around the camp, where hundreds of relatives gather every day in a dusty car park in the hope of news. The prison is protected by guard towers, an outer fence topped with razor wire, and blast walls. Inside, more than 3,000 Iraqi men are kept in vast open courtyards, in communal brown tents exposed to dust and sun. (Last month, nearly 30 detainees were killed in two separate mortar attacks on the prison; about a dozen survivors are still in the hospital wing, shackled to their beds with leather belts.) As our bus pulled up, the men ran towards the razor wire. They unfurled banners and T-shirts that read: "Why are we here?" "When are you going to do something about this scandal?" "We cannot talk freely." The women, however, are kept in another part of the prison, cellblock 1A, together with 19 "high-value" male detainees. It is inside this olive-painted block, which leads into a courtyard of shimmering green saysaban trees and pink flowering shrubs, that the notorious photographs of US troops humiliating Iraqi prisoners were taken, many of them on the same day, November 8 2003. A wooden interrogation shed is a short stroll away. As we arrived at the cellblock, the women shouted to us through the bars. An Iraqi journalist tried to talk to them; a female US soldier interrupted and pushed him away. The windows of the women's cells have been boarded up; birds nest in the outside drainpipe. Captain Dave Quantock, now in charge of prisoner detention at Abu Ghraib, confirmed that the women prisoners are in solitary confinement for 23 hours a day. They have no entertainment; they do have a Koran. Since the scandal first emerged there is general agreement that conditions at Abu Ghraib have improved. A new, superior catering company now provides the inmates' food, and all the guards involved in the original allegations of abuse have left. Nevertheless, there remain extremely troubling questions as to why these women came to be here. Like other Iraqi prisoners, all five are classified as "security detainees" - a term invented by the Bush administration to justify the indefinite detention of prisoners without charge or legal access, as part of the war on terror. US military officials will only say that they are suspected of "anti-coalition activities". Two of the women are the wives of high-ranking and absconding Ba'ath party members; two are accused of financing the resistance; and one allegedly had a relationship with the former head of Iraq's secret police, the Mukhabarat. The women, in their 40s and 50s, come from Kirkuk and Baghdad; none has seen their families or children since their arrest earlier this year. According to Swadi, who managed to visit Abu Ghraib in late March, the allegations against the women are "absurd". "One of them is supposed to be the mistress of the former director of the Mukhabarat. In fact, she's a widow who used to own a small shop. She also worked as a taxi driver, ferrying children to and from kindergarten. If she really had a relationship with the director of the Mukhabarat, she would scarcely be running a kiosk. These are baseless charges," she adds angrily. "She is the only person who can provide for her children." The women appear to have been arrested in violation of international law - not because of anything they have done, but merely because of who they are married to, and their potential intelligence value. US officials have previously acknowledged detaining Iraqi women in the hope of convincing male relatives to provide information; when US soldiers raid a house and fail to find a male suspect, they will frequently take away his wife or daughter instead. The International Committee of the Red Cross, whose devastating report on human rights abuses of Iraqi prisoners was delivered to the government in February but failed to ring alarm bells, says the problem lies with the system. "It is an absence of judicial guarantees," says Nada Doumani, spokesperson for the ICRC. "The system is not fair, precise or properly defined." During her visit to Abu Ghraib in March, one of the prisoners told Swadi that she had been forced to undress in front of US soldiers. "The Iraqi translator turned his head in embarrassment," she said. The release of detainees, meanwhile, appears to be entirely arbitrary: three weeks ago one woman prisoner who spoke fluent English and who had been telling her guards that she would sue them was suddenly released. "They got fed up with her," another lawyer, Amal Alrawi, says. Last Friday, about 300 male prisoners were freed from Abu Ghraib, the first detainees to be released since the abuse scandal first broke. A further 475 are due to be released tomorrow, although it is not clear if any of the women will be among them. General Geoffery Miller, who is responsible for overhauling US military jails in Iraq, has promised to release 1,800 prisoners across Iraq "within 45 days". Some 2,000 are likely to remain behind bars, he says. Iraqi lawyers and officials aredemanding that the US military hands the prisons over to Iraqi management on June 30, when the coalition transfers limited powers to a UN-appointed caretaker Iraqi government. Last week, Miller said "negotiations" with Iraqi officials were ongoing. Relatives who gathered outside Abu Ghraib last Friday said it was common knowledge that women had been abused inside the jail. Hamid Abdul Hussein, 40, who was there hoping to see his brother Jabar freed, said former detainees who had returned to their home town of Mamudiya reported that several women had been raped. "We've know this for months," he said. "We also heard that some women committed suicide." While the abuse may have stopped, the US military appears to have learned nothing from the experience. Swadi says that when she last tried to visit the women at Abu Ghraib, "The US guards refused to let us in. When we complained, they threatened to arrest us."

Take A Look At The Chair Nick Berg Sat In


Off Liberty Forum
5-14-4

I wonder what the standard issue chair is at Abu Ghraib prison?
Nick Berg was a telecommunications contractor who went into Iraq to "help". But he and his family were not unknown to US authorities.

On March 7, 2004, an 'enemies' list of anti-war groups and individuals was posted on the Free Republic.

Among those listed was this entry: "Michael S. Berg, Teacher, Prometheus Methods Tower Service, Inc." That's Nick Berg's father, Michael who acts as business manager for his son in their family radio communications firm, Prometheus Methods Tower Service.

Just days after "Michael Berg" and "Prometheus Methods Tower Service" had come up on that Iraq war 'enemies' list, his son Nick Berg returned to Iraq under the business name of Prometheus Methods Tower Service.

Nick was detained, first by Iraqi police, then for 13 days by the United States military in Iraq. He was in US custody and admittedly questioned by the FBI 3 separate times. They would not release him ­ nor press charges ­ nor let him speak to an attorney.

He was a "terrorist sympathizer" and detained in a US orange jumpsuit (like those in Guantanamo) and put in a cell with Syrians and Iraqis.


Yet they now claim Nick Berg was NEVER in US custody. Oh really?

To back its claims that Berg was in U.S. custody, the family gave The Associated Press copies of e-mails from Beth A. Payne, the U.S. consular officer in Iraq.

"I have confirmed that your son, Nick, is being detained by the U.S. military in Mosul. He is safe. He was picked up approximately one week ago. We will try to obtain additional information regarding his detention and a contact person you can communicate with directly,'' Payne wrote to Berg's father, Michael, on April 1. Payne repeated that Berg was "being detained by the U.S. military'' in an e-mail the same day to Berg's mother, Suzanne.

Frustrated by their inability to find out about their son's whereabouts, The Berg's filed a lawsuit in federal court in Philadelphia on April 5 asserting that their son was being held by the American military in violation of his civil rights.

"His parents contacted our office, the F.B.I., the State Department," said Representative Jim Gerlach, a Republican from Upper Uwchlan Township in Pennsylvania.

Representative Gerlach met with the Berg family on Tuesday. "They got very insufficient information,'' he said. "They felt that they were not getting full answers."

Nick Berg's father, Michael Berg was publicly furious, "I think a lot of people are fed up with the lack of civil rights this thing has caused," he said. "I don't think this administration is committed to democracy."

The Berg's filed a lawsuit in federal court in Philadelphia on April 5. A day later, Nick Berg was released. He contacted his parents and told them that he was coming home. The following day he checked out of his hotel in Baghdad, and disappeared.

At the height of the US torture scandal, Nick Berg's body was "discovered" on Saturday May 8, having reportedly been decapitated the same day by muslim radicals ­ specifically Al Queda. And, almost miraculously, a video appears worldwide showing "Al Queda" in possession of Mr. Berg (somehow still wearing his orange jumpsuit) at which time he is supposedly beheaded by Abu Musab al-Zarqawi ­ whom Americans claim is Al Queda's lead man in Iraq. Not only does Al Queda record the video, but Zarqawi's name and "signature" appear on it. For full story .... http://rense.com/general52/psyy.htm http://www.prisonplanet.tv/audio/051404watson.htm In Baghdad, U.S. officials said Iraqi police arrested Berg in Mosul on March 24 because local authorities believed he may have been involved in "suspicious activities." He would not elaborate but insisted American authorities had not held Berg although the FBI visited him three times before he was released April 6. However, police chief Maj. Gen. Mohammed Khair al-Barhawi told reporters Thursday that his department had never arrested Berg. "The Iraqi police never arrested the slain American," he said. "Take it from me ... that such reports are baseless." Despite the police chief's statement, a U.S. official, speaking on condition of anonymity, said Berg was detained by Iraqi authorities "for his own protection" because his behavior in Mosul seemed unusual for a westerner. He had been seen traveling in taxis and moving about the dangerous city without any escort, the official said. He added that Berg, who was Jewish, had written materials which were "anti-Semitic" in tone, the official said without elaborating.


Amnesty Denounces
Peacekeepers Over
Kosovo Sex Slavery
By Vesna Peric Zimonjic
The Independent - UK
5-7-4 BELGRADE -- Sexual slavery involving girls as young as 11 has grown into a massive industry in the Balkans, because of demand for their services from the 40,000 international peacekeepers from Nato and the United Nations in Kosovo. The extent of the Balkans bonded sex trade, controlled by organised criminal networks, was revealed yesterday in a report by the human rights organisation Amnesty International. The authors said hundreds of women and girls were being herded around the region and treated as the property of various crime lords. http://www.rense.com/general52/sexx.htm

In Kuwait...Susan Avila-Smith, a Washington state-based civilian advocate, assisted Danielle, the rape victim who received congressional help to return home. A military intelligence officer who asked that her full name not be used, Danielle was assaulted Nov. 28 while in Kuwait.

She was stationed with her Fort Lewis, Wash., unit at Camp Udairi, about 15 miles from the Iraqi border, for training before deployment to Iraq. She had just finished guard duty at 2:30 a.m. and was stepping into the latrine on the edge of camp when she was hit on the back of her head and knocked unconscious, she said.

She recalled waking to a man raping her: He had tied her hands with cord, stuffed her underwear into her mouth and wrapped cord around her head, as well. He used a knife to slice off her clothes, cutting her in the process. She was blindfolded. When she began to fight, he threatened to cut open her crotch. He then hit her with an object between the eyes, again knocking her unconscious.

Just by virtue of the fact that they have to salute the individual who attacked them adds tremendous emotional trauma."

Wednesday May 5, 2004 9:46 PM

By SUE LEEMAN

Associated Press Writer

LONDON (AP) - U.S. soldiers who detained an elderly Iraqi woman last year placed a harness on her, made her crawl on all fours and rode her like a donkey, Prime Minister Tony Blair's personal human rights envoy to Iraq said Wednesday.

The envoy, legislator Ann Clwyd, said she had investigated the claims of the woman in her 70s and believed they were true.

Clwyd said the Iraqi woman was arrested in Iraq in July and accused of having links to a former member of Saddam Hussein's regime - a charge she denied.

The abuse occurred last year in Baghdad's Abu Ghraib prison and at another coalition detention center, Clwyd said.

``She was held for about six weeks without charge,'' the envoy told Wednesday's Evening Standard newspaper. ``During that time she was insulted and told she was a donkey. A harness was put on her, and an American rode on her back.''

Clwyd said the woman has recovered physically but remains traumatized.

What the world does not know, however, is the full extent of these perverse acts and who are actually and ultimately responsible for them. The horrid sodomization of Iraqi POW's and rape of Iraqi women detainees is much worst than can be imagined by decent minds.

La Voz de Aztlan received information today that many of the rape and sodomization pictures of Iraqis are now being made available to perverts by Jewish owned pornographic websites based in the United States. One of these pictures, also released by CBS News, shows an Iraqi male POW on the ground with his underwear pulled down. The Iraqi has since been released by the US occupiers and has been interviewed by the international media. He says that he was sodomized by a US interrogator (hired mercenary) while a female soldier "cheered" and the whole event filmed. Why was this sexual torture and humiliation being filmed? Why were thousands of these photographs showing the rape of Iraqi women disseminated among the US troops in Iraq? A Mexican-American soldier said in a telephone interview, "Maybe the officers didn't know what was going on, but everybody else did. I have seen literally hundreds of these types of pictures." He added, "Many of the pictures were destroyed last September when the luggage of soldiers was searched as they left Iraq. The graphic photos were being swapped between the soldiers like baseball cards."

The top Pentagon civilian officials -- Paul Wolfowitz and Douglas Feith -- both Jewish and both known for their extremely close relationships with top officials in Israel and the Zionist movement, are believed to have personally authorized clandestine Mossad officials to be in Iraq working closely with U.S. military intelligence.